Welcome to the Hop & Win Book Blast! This is all part of a fun event hosted by author Lori Verni-Fogarsi (LoriTheAuthor) during a special promotion of her novel, "Momnesia."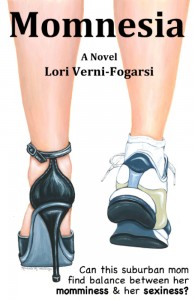 MOMNESIA (mahm-nee-zhuh) -noun-
Loss of the memory of who you used to be. Caused by pregnancy, play dates, and trying to keep the house cleaner than the Joneses.
"Momnesia," which has been recognized in two awards, is the story of an average suburban mom who, feeling invisible under all the responsibilities of caring for her family, sets about finding balance between her "momminess" and her "sexiness." She does find some adventure pursuing her own interests, but it isn't until she tosses the Invisible Rule Book altogether that she discovers life—and love—have more to offer than she ever imagined!
During this special promotion, there are all sort of fun things going on. (EVENT DATES ARE 8/12 THROUGH 8/19/13) Hope you'll enjoy them all!
"Momnesia" is on sale for only $1.99 in Kindle format! Find it here!
"Momnesia" is on sale for for only $5 per paperback! Find it here!
Treasure Hunt! Visit the blogs in the Linky List below and gather their treasure hunt words. For each one you collect, you'll get an extra entry to win Lori's "Find Yourself… In a Good Book" Prize Pack! By the way my Treasure Hunt Word is: FAMILY.
Buy the book during this promotion and get five extra entries! Send your e-receipt to LoriTheAuthor "at" gmail "dot" com. Put MOMNESIA RECEIPT in subject line.
Lori has prepared a special article for moms: Ten Easy Tips for Balancing Momminess & Sexiness. Enjoy!
1. Use this Linky List to visit all the blogs and find their treasure hunt words.

2. Use this Rafflecopter to enter the treasure hunt words to be entered to win the Prize Pack! a Rafflecopter giveaway
3. If you buy the book, don't forget to send your receipt to LoriTheAuthor "at" gmail "dot" com to receive 5 extra entries!
4. Ten Easy Tips for Balancing Momminess & Sexiness article. (Click! It will open in a new window so you don't lose your place!)
The following two tabs change content below.
Felicia is currently in pursuit of a Master's degree in the field of Couples, Marital and Family Therapy. In her spare time she enjoys spending time with family, singing, watching television and movies, and writing. In addition, she is profoundly interested in the many aspects of family and relationships and for this reason
Familial Ramblings
was created.
Posted on August 12, 2013 by Felicia
Loved the post? Mention it on your blog (just copy and paste):